GALTHA ROM - NOVEMBER 2012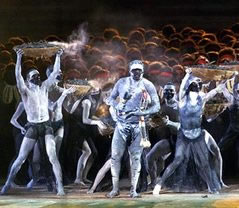 Led by the vision of BJAA's Artistic Directors Djakapurra & Janet Munyarryun and BJAA's Education Director Multhurrra Munungurr, and supported by a group of respected community elders, BJAA is conducting a Performing Arts Galtha Rom program in November 2012 at Garthalala, a remote boarding school environment servicing senior high school students from homeland communities in the Laynhapuy IPA.
The word Galtha means 'to pierce' in Yolngu matha. It refers to the action of piercing the ground with a spear following the negotiation of an agreement between different groups of people about the form that a ceremony or some other group action should take. In the context of education, Galtha indicates the participation of people with different perspectives that are each recognised to have value. Galtha emphasises that knowledge is not constituted by objective facts, but by ongoing negotiation of our various partial perspectives.
BJAA's Performing Arts Galtha Rom program will bring together community representatives (youth and elders) to define a three-year program that is based on correct Yolngu protocols and embraces a two-way educational process of knowledge transmission - Yolngu and Balanda way. The success of this program relies on bringing together clan leaders and top Yolngu artists from remote locations to Garthalala for a concentrated one-week program that will be recorded and documented and followed up with specific project responses that engage the community in the next stage of BJAA's three-year program. The results will be available on Bunggul Djama webTV and our Facebook Page will keep you up to date on our latest postings.
Specifically, the Galtha Rom workshop series will address the process of adapting traditional knowledge into a contemporary performance-based language that can be taught and developed within the context of a Vocational Educational Training scheme dedicated to the realisation of a Yolngu managed and run Performing Arts company to be established within a selected network of homeland communities, initially in the North-East Arnhem Land region bound by the Laynahpuy IPA (Indigenous Protected Area) in association with the neighbouring Dhimurru IPA.
This project has been assisted by the Australian Government through the Australia Council for the Arts.
BUNGGUL DJAMA GALTHA ROM
Budget $70,000 / Seeking $49,000